Authorization Code Flow
The authorization code is obtained by using an authorization server as an intermediary between the client and resource owner. Instead of requesting authorization directly from the resource owner, the client directs the resource owner to an authorization server, which in turn directs the resource owner back to the client with the authorization code. The following diagram shows an overview for Accela OAuth2 authorization code flow.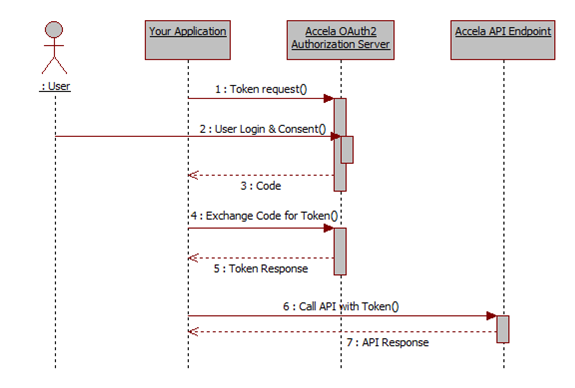 The sequence begins by redirecting a browser to an Accela URL with a set of query parameters. The authorization server handles the user authentication and user consent, and responds back with an authorization code. After receiving the authorization code, the application can exchange the code for an access token and a refresh token. The application can access a Accela API after it receives the user access token.
Before or when the access token expires, the app can refresh the access token.
To get access token using the authorization code flow
Note:
The line breaks shown in the sample request and response URLs in the following steps are only to make these better readable. Delete the line breaks for your actual use.
Get authorization code

The app constructs the request URI by adding the following parameters to the query or form component of the authorization endpoint URI using the "application/x-www-form-urlencoded" format, and sends the request URI via user-agent (e.g. browser).

HTTP Request URI: https://auth.accela.com/oauth2/authorize

HTTP method: GET or POST

Request Parameters

Parameter
Type
Description
response_type
Required
The grant type that the client requests. The value must be set to "code".
client_id
Required
The app ID value from Accela Developer Portal.
redirect_uri
Required

The URI that the authorization server redirects back to the client with an authorization code. This must be a valid URL.

Note: Special characters in the URL should be encoded.

environment
Required
The Accela environment name, such as "PROD" and "TEST". The Get All Agency Environments API returns a list of configured environments available for a specific agency. The Get Environment Status checks connectivity with the Agency/Environment.
agency_name
Optional
The agency name defined in Accela Administrator Portal. APIs such as Get All Agencies, Get Agency and Search Agencies return valid agency names. The agency name is required in the majority of cases. It is optional only for citizen apps that use dynamic agency routing functionality.
forcelogin
Optional

Indicates whether or not Accela Auth server forces end-user login each time client requests access token.

true: always force end-user login

false: not force end-user login. The sever determines if the current request needs login. This is the default behavior.

scope
Optional

The scope of the resources that the client requests. Enter a list of APIs scope names separated by spaces. Alternatively, instead of using a long list of scope names, use the scope group. You get scope names from the Accela API Reference.

Note that your app cannot use APIs beyond what is requested here while obtaining the token.

state
Optional
An opaque value that the client uses for maintaining the state between the request and callback. Enter a unique value. This can be used for Cross-Site Request Forgery (CSRF) protection.

Response Data

| Parameter | Type | Description |
| --- | --- | --- |
| code | Required | The authorization code. The client app uses the authorization code to exchange for an access token. |
| environment | Required | The environment name that the user selected when signing into the app. |
| agency_name | Optional | The agency name that the user entered when signing into the app. |
| state | Optional | The exact value received from the client. Check this value against original state value sent in the request to verify and protect against CSRF. |

Error Response

| Parameter | Type | Description |
| --- | --- | --- |
| error | Required | The error code. Refer here for details. |
| error_description | Optional | The error description text. |
| error_uri | Optional | The URI of web page with more information about the error. |
| state | Optional | The exact state value received from the client request. |

Request Sample

HTTP Method
GET
URL

https://auth.accela.com/oauth2/authorize?client_id=63492273279
&agency_name=NULLISLAND
&environment=PROD
&redirect_uri=http%3a%2f%2fMyServer%2fLoginResponse
&state=abcxyz123 
&scope=get_records%20get_record%20search_records
&response_type=code          

Response Sample

URL

http://MyServer/LoginResponse?code=UZgs!IAAAAMxBrPKyPkReA9c439-ED2UlAUINyz286KXUf1I4bNy0QIAAAGP1Dds68ynOulQ2ZGs0dKgOfLNshNtTXZazcZvmW-S4ocq7RZrBSdbHfNUOtst7kqQxZ6MO3cLwVHem52KzjzgPSM3HnDmbPLX_
&agency_name=NULLISLAND
&environment=PROD
&state= abcxyz123

Redirect user to the login dialog

If the end users have not logged in, they will be redirected to the citizen or agency login dialog based on the app type (citizen app or agency app). After login, they will be redirected to a page where they need to authorize the app. After they authorize the app, it will be redirected back to redirect_uri with the authorization code value.

The following are login dialogs for Accela citizen and agency apps.

Exchange authorization code for access token.

HTTP method
POST
HTTP Request URI
https://auth.accela.com/oauth2/token
HTTP Headers

Content-Type: application/x-www-form-urlencoded

x-accela-appid: YOUR_APP_ID

Request Parameters

Parameter
Type
Description
client_id
Required
The app ID value from Accela Developer Portal.
client_secret
Required
The app secret value from Accela Developer Portal.
grant_type
Required
The authorization code grant type of the current request. The value must be set to "authorization_code".

Note:

Make sure the grant_type value "authorization_code" does not contain any space character.

redirect_uri
Required

The URI that is used to redirect to the client with an access token.

Note: If the "redirect_uri" parameter was included in the previous authorization request, then the same value should be included here.

code
Required

The authorization code obtained in step 1.

Note: The code should be URL-encoded, if you are using tools or libraries which will auto-encode the code, you need to pass the code under decoded.

Note: The code can be used no more than one time, the client should apply the rule during exchange access token.

state
Optional
An opaque value that the client uses for maintaining the state between the request and callback. Enter some unique value. This can be used for CSRF protection.

HTTP content type: application/json

Response Data

| Parameter | Type | Description |
| --- | --- | --- |
| access_token | Required | The issued user access token. |
| token_type | Required | The type of the token issued. It contains the fixed value "bearer" for authorization code grant type. |
| expires_in | Required | The lifetime in seconds of the access token. For example, the value "3600" denotes that the access token will expire in one hour from the time the response was generated. |
| refresh_token | Required | The refresh token that can be used to obtain a new access token. |
| scope | Optional | The scope of the resources authenticated by the authorization server. |
| state | Optional | The exact value received from the client. |

Request Sample

HTTP Method
POST
URL
https://auth.accela.com/oauth2/token
HTTP Header

Content-Type: application/x-www-form-urlencoded

x-accela-appid: 634922454502

HTTP Body

grant_type=authorization_code
&client_id=634922454502
&client_secret=abb1e067955c48c01c
&redirect_uri= http%3a%2f%2fMyServer%2fLoginResponse
&code=UZgs!IAAAAMxBrPKyPkReA9c439-ED2UlAUINyz286KXUf1I4bNy-0QI
AAAGP1Dds68ynOulQ2ZGs0dKgOfLNshNtTXZazcZvmW-S4ocq7RWJHbMpd
kz1rAEfL6QoFjsIKbVspqrgrwNcka53tsrBpveD6yIMVjyyD8R37xtiZhaXen
&state=abcxyz123

Response Sample (HTTP Body)

{
"access_token": "3xGDezCgbB3BC4eAb4llKWfxiM0pnTGXzpUR61aSNP2frS8
          T3zOnUR3jxZeN08Xzn-5RCJ7XJzD02X3ZP8Pq2z_Hp_0IpQKtIy0d4g8nvaXTyN
          c1IUKD4uNO92KlQ1Q-O5Ds782a0zB6jfxmpvpnfMMnm7Vn8Be6hPCKFr3nO7
          -UgGwCXfyAnWpcb0uTfv5usCfwcwdatXv6nCOH_qTQtbEeWfx0",
"token_type": "bearer",
"expires_in": "28800",
"refresh_token": "OvNl!IAAAAGbyAM37pxFdYBt4JOtavTO2M2cm30mDjmhe
          IchHAcvagQIAAAHwT4HFP0bRLmFq7WncMnySLkg08yxYDelCoKcqcdw6iK
          VVUE2pG8TS91pCxerJRLTpzmFQZqsIsC1G0yRBoU1_hfYkZfkz4QHoUQcPs
          dfp0Ub_ERkM_2U0sNmkgbkiY0pH4vmPPXUoPtpntdgxR12-DoJj-wmXJjO_Qp
          Il6zk36jo41m_i2B5vWLZK8rRWvAalwrrC5BRapBA",
 "scope": "get_records get_record search_records"
}

Refresh the access token (optional)

Access tokens have a limited lifetime and, in some cases, an application needs access to an API beyond the lifetime of a single access token. When this is the case, your application can obtain a new access token using the refresh token. Your app can refresh the token before it expires or when it expires, according your app requirements or workflow.

HTTP method
POST
HTTP Request URI
https://auth.accela.com/oauth2/token
HTTP Headers

Content-Type: application/x-www-form-urlencoded

x-accela-appid: YOUR_APP_ID

Request Parameters

| Parameter | Type | Description |
| --- | --- | --- |
| client_id | Required | The app ID value from Accela Developer Portal. |
| client_secret | Required | The app secret value from Accela Developer Portal. |
| grant_type | Required | The authorization code grant type of the current request. The value must be set to "refresh_token". |
| refresh_token | Required | The refresh token value obtained in the prior access token API request. |

HTTP content type: application/json

HTTP Response Data

| Parameter | Type | Description |
| --- | --- | --- |
| access_token | Required | The issued user access token. |
| token_type | Required | The type of the token issued. It contains the fixed value "bearer" for the authorization code grant type. |
| expires_in | Required | The lifetime in seconds of the access token. For example, the value "3600" denotes that the access token will expire in one hour from the time the response was generated. |
| refresh_token | Required | The refresh token that can be used to obtain a new access token. |
| scope | Optional | The scope of the resources authenticated by the authorization server. |
| state | Optional | The exact value received from the client. |

Request Sample

HTTP Method
POST
URL
https://auth.accela.com/oauth2/token
HTTP Header

Content-Type: application/x-www-form-urlencoded

x-accela-appid: 634922755554115102

HTTP Body

grant_type= refresh_token
 &client_id=634922755554115102
 &client_secret= abb1e0e9b67955c48c01c
 &refresh_token=AQNb!IAAAAG_3b0qMrBi7gGRdIbB3dH5uAs0pb3GvM6f2Fwkl
 WxBOAQEAAAGHqoZ1BACTzLa8hkNLqgVpN1TalKG2kaadzAdr1i1osrLWxFT
 h5e1DMfH3WnPp_L-54Zjb5Zo9kzjsgzbNN3es0MDcdru35AyGg


Response Sample (HTTP Body)

{
"access_token": "3xGDezCgbB3BC4eAb4llKWfxiM0pnTGXzpUR61aSNP2frS8
          T3zOnUR3jxZeN08Xzn-5RCJ7XJzD02X3ZP8Pq2z_Hp_0IpQKtIy0d4g8nvaXTyN
          c1IUKD4uNO92KlQ1Q-O5Ds782a0zB6jfxmpvpnfMMnm7Vn8Be6hPtxJvOdGnp
          W9tjPr5O3CnNdJfMnyhk79eyRiNmDO6ePjMN2HQxPAbl3FKl",
"token_type": "bearer",
"expires_in": "28800",
"refresh_token": " AQNb!IAAAAFZ_yW-9MQxxWVzXTgLPEZhSZGgUc9BLFH
          i63advYilBAQEAAAGFT1MoIDAplxRvez-KBB_qKtz13V8mtU6I6wF_vCPBue422
          aozp3Ar8DaaFciv_fAnwGJ63SEmmB7_zps-sZfPf-RcvD9FGTDDQytnOhH2F",
"scope": "get_records get_record seach_records"
}

Validate the token.

It may be necessary to validate or get information about a token from the Accela Auth server to check whether it is the token requested by your client and generated for your client. To validate and match token information with the information used to request the access token, call the token validation API:

HTTP Request URI: https://auth.accela.com/oauth2/tokeninfo

HTTP method: GET

HTTP headers: Authorization: {access token}

Response Data

| Parameter | Description |
| --- | --- |
| appId | The app ID value from Accela Developer Portal. This value is passed in your access token request. |
| userId | The logged in user's unique id. |
| agencyName | The agency name defined in the Accela Administrator Portal. The agency name is passed by client request or chosen by the end-user during access token request flow. APIs such as Get All Agencies, Get Agency and Search Agencies return valid agency names. |
| environment | The Accela environment name, such as "PROD" and "TEST". The environment is passed by client request or chosen by the end-user during access token request flow. The Get All Agency Environments API returns a list of configured environments available for a specific agency. The Get Environment Status checks connectivity with the Agency/Environment. |
| scopes | The scopes of the resources that the client requests |
| expiresIn | The lifetime in seconds of the access token. |

Request Sample

URL
https://auth.accela.com/oauth2/tokeninfo
HTTP Method
GET
HTTP Header

Authorization: 3xGDezCgbB3BC4eAb4llKWfxiM0pnTGXzpUR61aSNP2frS8T3zOnU
 R3jxZeN08Xzn-5RCJ7XJzD02X3ZP8Pq2z_Hp_0IpQKtIy0d4g8nvaXTyNc1IUKD4uNO92KlQ1Q
 -O5Ds782a0zB6jfxmpvpnfMMnm7Vn8Be6hPCKFr3nO7gGwCXfyAnWpcb0uTfv5usC
 fwcwdatXv6nCOH_qTQtbEeWfx0

Response Sample

{
 "appId": "123450949800276721",
 "userId": "63e79004",
 "agencyName": "myAgency",
 "environment": "DEV",
 "scopes": [
    "addresses",
    "agencies",
    "get_civicid_profile",
    "records",
    "settings"
 ],
 "expiresIn": 85158
}


Error Response Sample

If the token has expired or has been invalidated, the Accela Auth server returns an error with a 400 status, as shown below:

{
    "status": 400,
    "code": "invalid_token",
    "message": "Invalid token.",
    "traceId": "140530084954807-61409b20"
}

Invoke APIs using user access token.

After getting an access token, assign the value of the token to the "Authorization" header to invoke APIs.

Request Sample

HTTP Method
GET
URL
https://apis.accela.com/v3/system/common/modules
HTTP Header

Content-Type: application/json

Accept: application/json

x-accela-appid: 634922733084115102

Authorization

3xGDezCgbB3BC4eAb4llKWfxiM0pnTGXzpUR61aSNP2frS8T3
 zOnUR3jxZeN08Xzn-5RCJ7XJzD02X3ZP8Pq2z_Hp_0IpQKtIy0d4g8nvaXTyNc1
 IUKD4uNO92KlQ1Q-O5Ds782a0zB6jfxmpvpnfMMnm7Vn8Be6hPCKFr3nO7
 gGwCXfyAnWpcb0uTfv5usCfwcwdatXv6nCOH_qTQtbEeWfx0